Sawyer Chesapeake Bay Fishing Charters
Chesapeake Bay Fishing At Its Finest!
OUR CHESAPEAKE BAY FISHING SEASONS
CHESAPEAKE BAY STRIPED BASS TROPHY SEASON
May 1 through May 15
During this time period, we fish the middle and lower portions of Maryland's Chesapeake Bay, which include as far south as Point Lookout and as far north as Tilghman Island. If we need to, we will move our boat to be closer to where the fish are.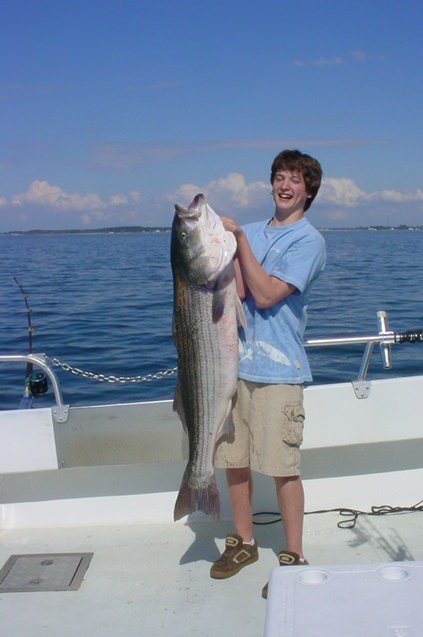 During the trophy Chesapeake Bay rockfish season, trolling with the use of planer boards is the primary method of fishing. We generally fish with 20 or more lines at a time in order to increase our chances of landing the big one! These Maryland rockfish can range anywhere from 28 inches in length on up to 50 inches or more.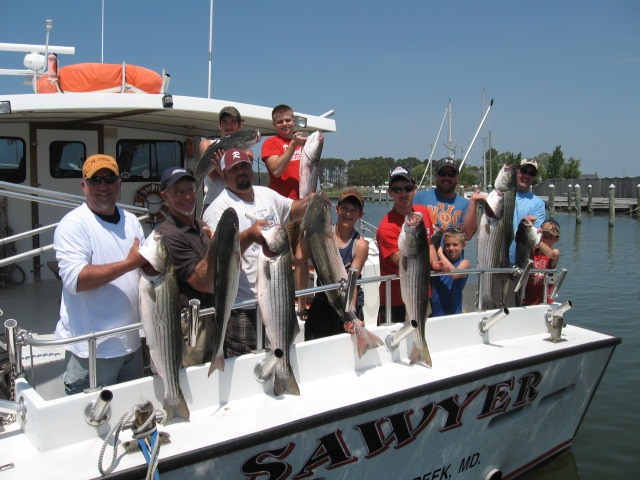 If you catch one of these trophy striped bass and you want to find out how old that fish is, please visit this link for more information.
Limits During Trophy Rockfish Season On Maryland's Chesapeake Bay
Per Maryland law in 2022, fishermen are allowed one fish per person that must be at least 35" in length.
THE SUMMER CHESAPEAKE BAY FISHING SEASON
May 16 - December 20
Over this stretch, we fish for a wide variety of species that include striped bass, bluefish, croakers, white perch, and spot. We also do our Chesapeake Bay fishing trips in about the same areas as we do during the spring trophy season.
Our principal method of fishing for Chesapaeake Bay striped bass in the summer is a method known as live-lining. Live-lining involves the use of spinning reels and light tackle. When you live-line for rockfish, you put a live spot fish on a treble hook, and watch it swim away. If there are any stripers around, they may latch on to that spot and give you one heck of a fight! It's really exciting when we anchor on a pile of striped bass, and everyone in the group catches at the same time! For more information about live-lining for striped bass, check out my article on striped bass! We also may troll for striped bass during this time of year with the use of umbrella rigs.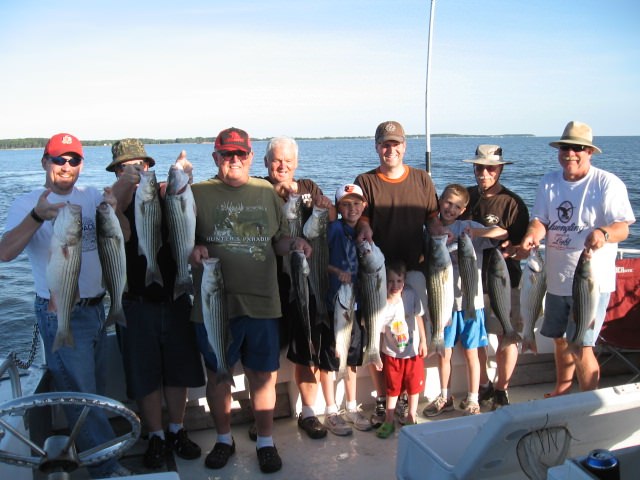 Rockfish Caught On The Chesapeake Bay While Live-Lining
When the weather cools off on the Chesapeake Bay, the spot leave town. This requires us to resort to trolling for striped bass. When trolling during this time of year, we normally pull fewer lines to give us more mobility. We often see bait pods and clusters of birds gathering on the water surface, which often lead us to the fish! There have been many times where we go through a cluster of birds and have every rod go down at once!
Limits During The Summer Chesapeake Bay Striped Bass Season
During this time frame, anglers are allowed either two striped bass that must be at least 19 inches in length. Of these fish, only one per person can exceed 28 inches in length.
BOTTOM FISHING ON THE CHESAPEAKE BAY
In addition to the above types of Chesapeake Bay fishing, we also do a fair amount of bottom fishing for croakers, spot, and white perch. When we bottom fish, we use spinning reels, and a bottom rig that has two hooks and a 2-4 ounce sinker.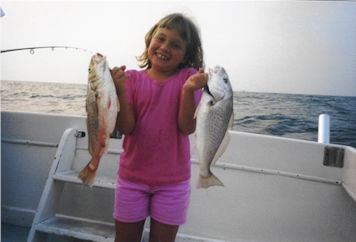 Often, we will have our charter groups bottom fish for the spot that we use to live-line for striped bass. In fact, a lot of our groups have more fun doing that than they do when reeling in rockfish!