Chesapeake Bay Fishing Report: December 13, 2015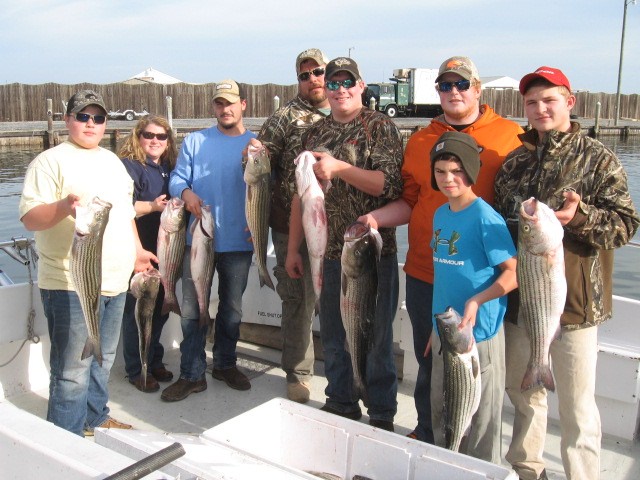 These folks have fished with us many times over the years, in pursuit of Chesapeake Bay striped bass. They have always done well, and fortunately, today was no exception! It started out really slow, as we fished for most of the morning where we had been fishing for the last couple of weeks, and only had a couple of fish to show for it. Instead of hanging around and hoping for the bite to pick up, we made the decision to pull up our gear and head up the Chesapeake Bay to see what we could see. After about 40 minutes of riding, we saw what we wanted to see. We saw flocks of birds diving on the water surface, which is normally a sign that fish are in the area. We put over our trolling lines and started catching rockfish almost immediately. Within an hour's time, we went from just two keeper rockfish to a full limit of 17 fish! It was fast and furious! The fish all ranged between 22 and 35 inches in length. The biggest fish of the day were the last two fish that were caught, and they were caught at the same time, on the same line. Imagine the thrill of reeling in both a 35-inch and a 29-inch rockfish at the same time! The young man in today's group who did that won't forget it anytime soon! The top picture only shows some of what was caught today, while the bottom picture is a cooler shot of what we had accomplished.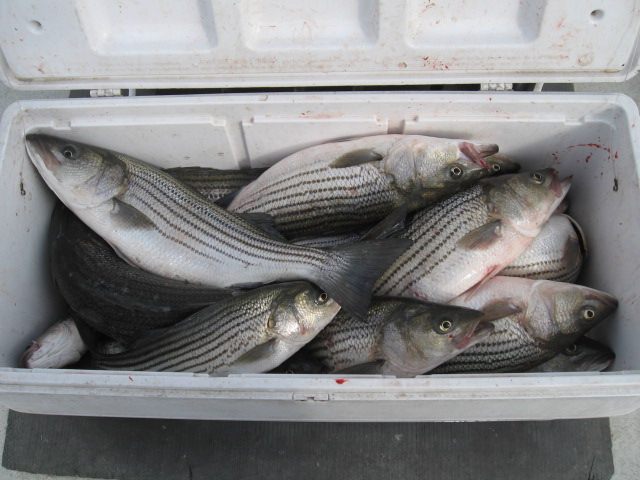 Our season continues until December 20 this year. Right now, we don't have anything on the book between now and then. If you have a group of people and would like to go catch some of these fish, let us know!
Chesapeake Bay Fishing Report: December 12, 2015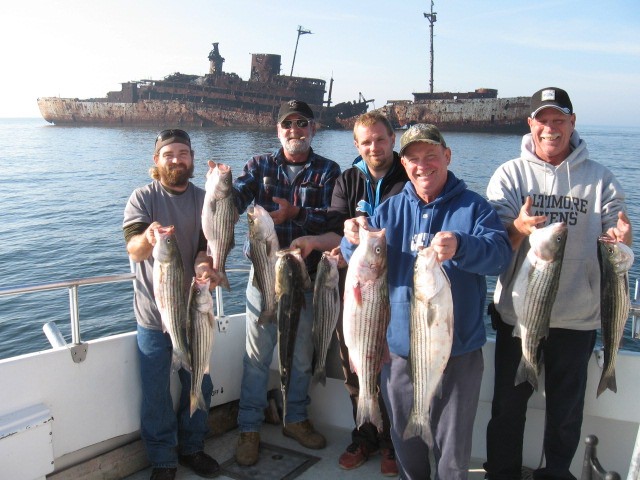 These guys have been with us on many Chesapeake Bay fishing charters over the years. They've fished with us when it was great, and also when it was not so great! Today was a case of the former and not the latter! It was a Saturday, and we were expecting a lot of boat traffic to be out, so we left the dock earlier than normal and managed to reach the fishing grounds before the bulk of the fleet. This probably made a big difference today. We were putting our trolling lines out as the sun was coming up, and proceeded to catch fish right away! We ended up with a full legal limit of rockfish by 8am! These fish all ranged between 22 and 32 inches long, and were all fat as butter! There were several points during the trip when multiple rods went down at the same time! It was a very exciting morning indeed! After today's big catch, the crew decided to book two trips with us in the spring!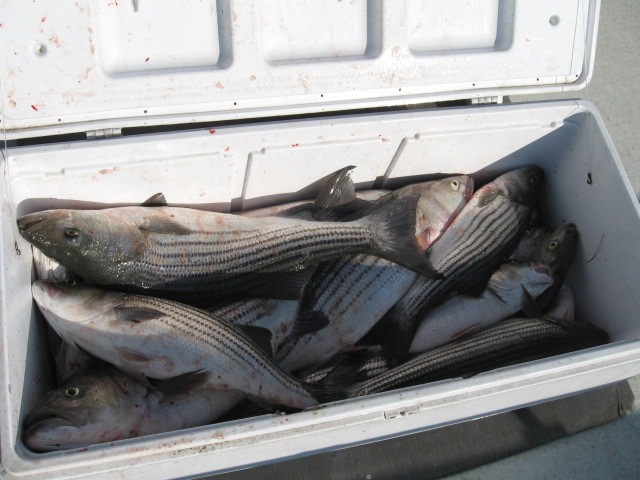 Chesapeake Bay Fishing Report: December 11, 2015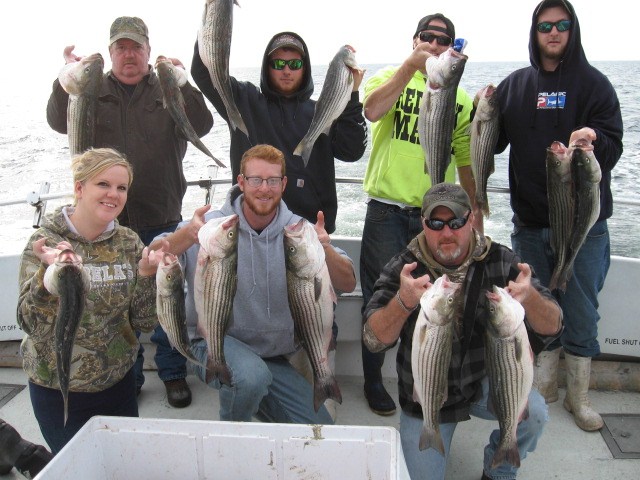 This is the first time that these guys went fishing on the Chesapeake Bay with us. After today, it probably won't be their last! It was another great day on the Chesapeake, as the fishing was red hot during the morning! These guys had their legal limit by 9am. As soon as we got our trolling lines out, we started getting hook-ups. It was hardly a dull moment all morning! The fish today all ranged between 20 and 32 inches in length. These guys were tickled to death and can't wait to come back!