Sawyer Fishing Charters & Chesapeake Bay Tours
Chesapeake Bay Fishing Reports & Maryland Fishing Information
Chesapeake Bay Fishing Reports From Capt. Dave Schauber!

Access the latest Chesapeake Bay fishing report on Maryland's Chesapeake Bay and find out what we're up to, right here at SawyerCharters.com!

Just 40 minutes south of Cambridge, MD!

Fishing the Chesapeake Bay in the areas of Hoopers Island, Taylors Island, Poplar Island, and Kent Island! We go where the fish are!

For fishing charter booking information, please click here.

Contact us at
(410) 397-3743

sawyercharters@yahoo.com

Easy access from the Ocean Gateway (Rt 50) from Annapolis, Baltimore, Ocean City,

Pennsylvania, Virginia or Delaware
---
Chesapeake Bay Fishing Report on the Sawyer
2017 MARYLAND FISHING REPORT
Chesapeake Bay Fishing Report: April 21, 2017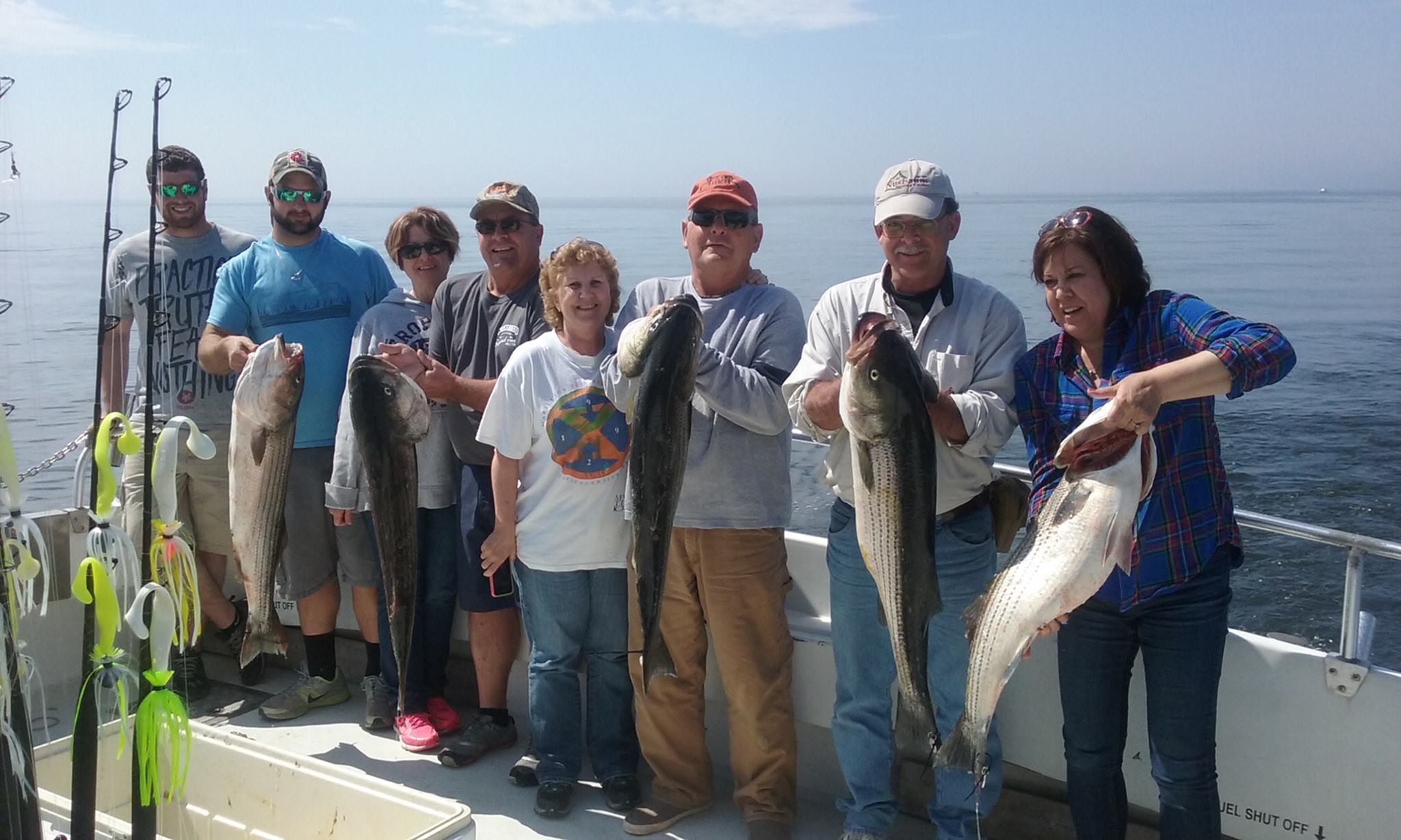 The above picture shows what happened during our morning trip today on the Chesapeake Bay. It was a very exciting morning of Chesapeake Bay fishing for this crew! At one point early on in the trip, we had three trolling lines hook up at the same time! All three fish were keepers, coming in at well above the 35-inch legal minimum. We went on to catch another two keepers, as well as a couple of 34-inch throwbacks. These guys were so happy that they've already booked a Chesapeake Bay fishing charter with us for next year!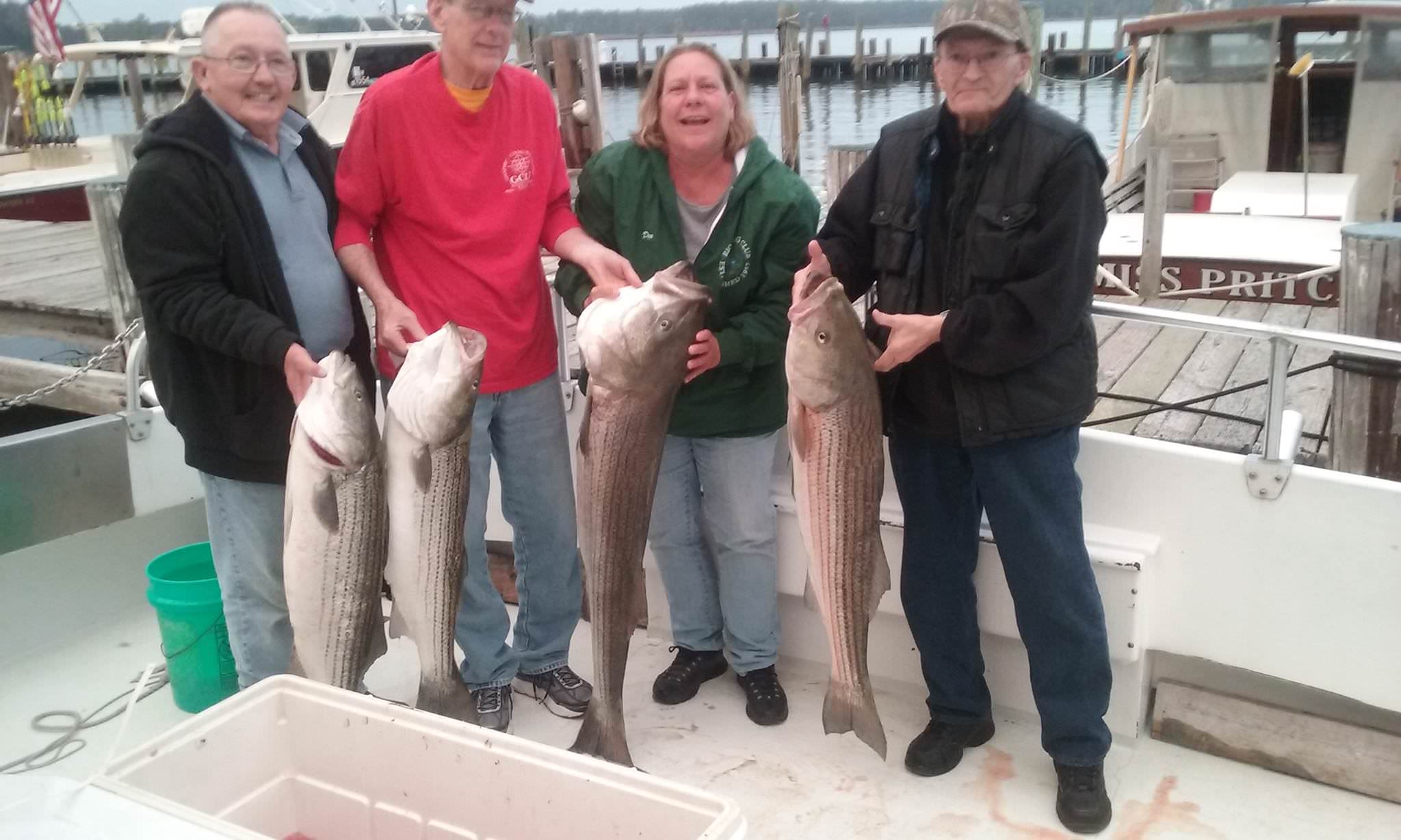 The picture shown above illustrates what happened during our afternoon trip. The fishing here started out pretty slow, and stayed that way for awhile. When it came time to pull up the lines, we had just one rockfish in the box. However, as soon as we started pulling up our lines for the day, we had a big hook-up with a 42" trophy striped bass! We got it aboard and made two circles back to that spot, and picked up two more gigantic stripers, including the one in the picture below.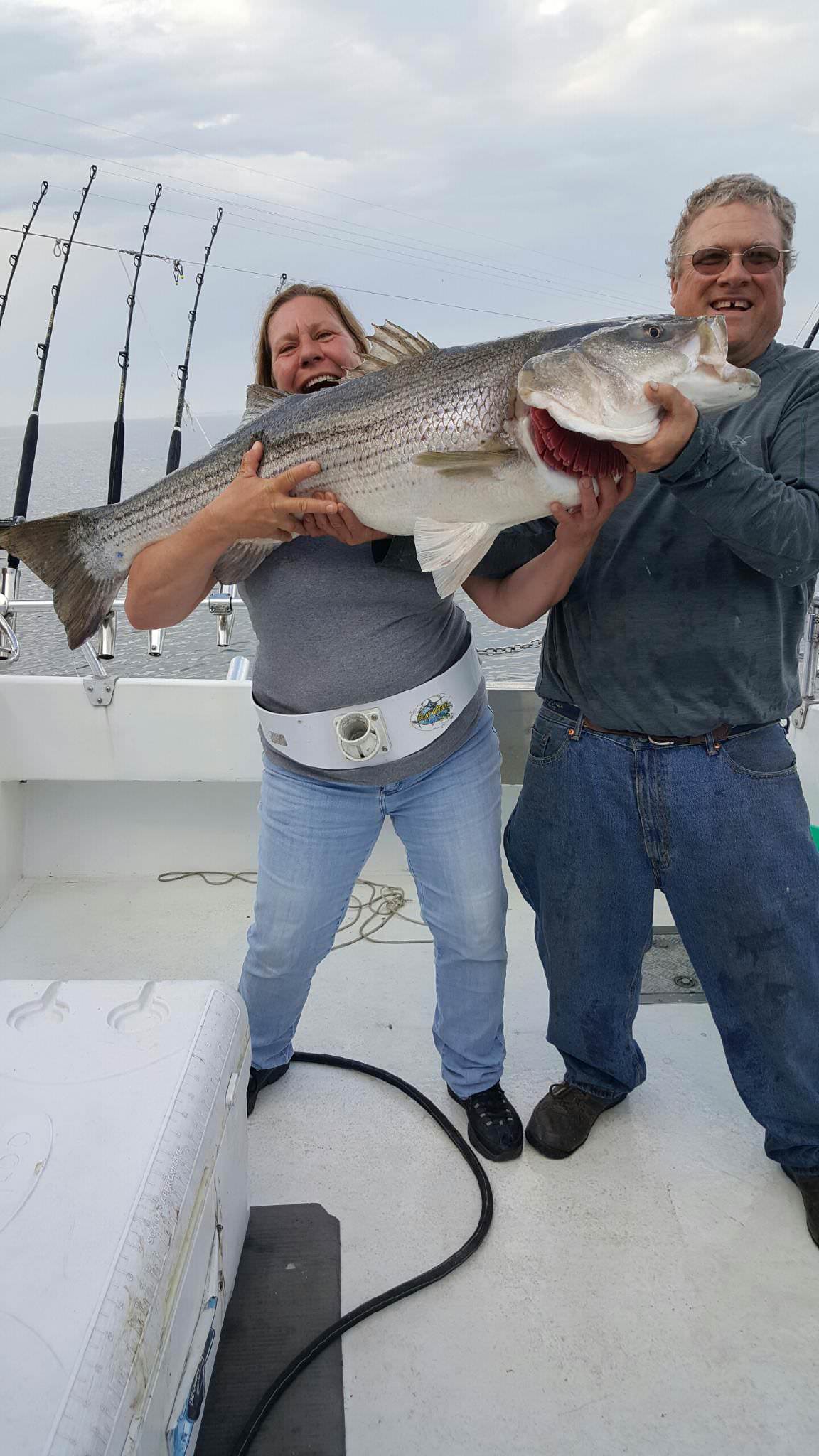 This is the biggest Chesapeake Bay striped bass that we've caught so far this year! It came in at 48 inches long and over 50 pounds! It didn't matter to this lady though, as she reeled it in like a man! All four fish caught in the afternoon came in at over 40 inches long. Hopefully, this is a sign of things to come.

Chesapeake Bay Fishing Report: April 20, 2017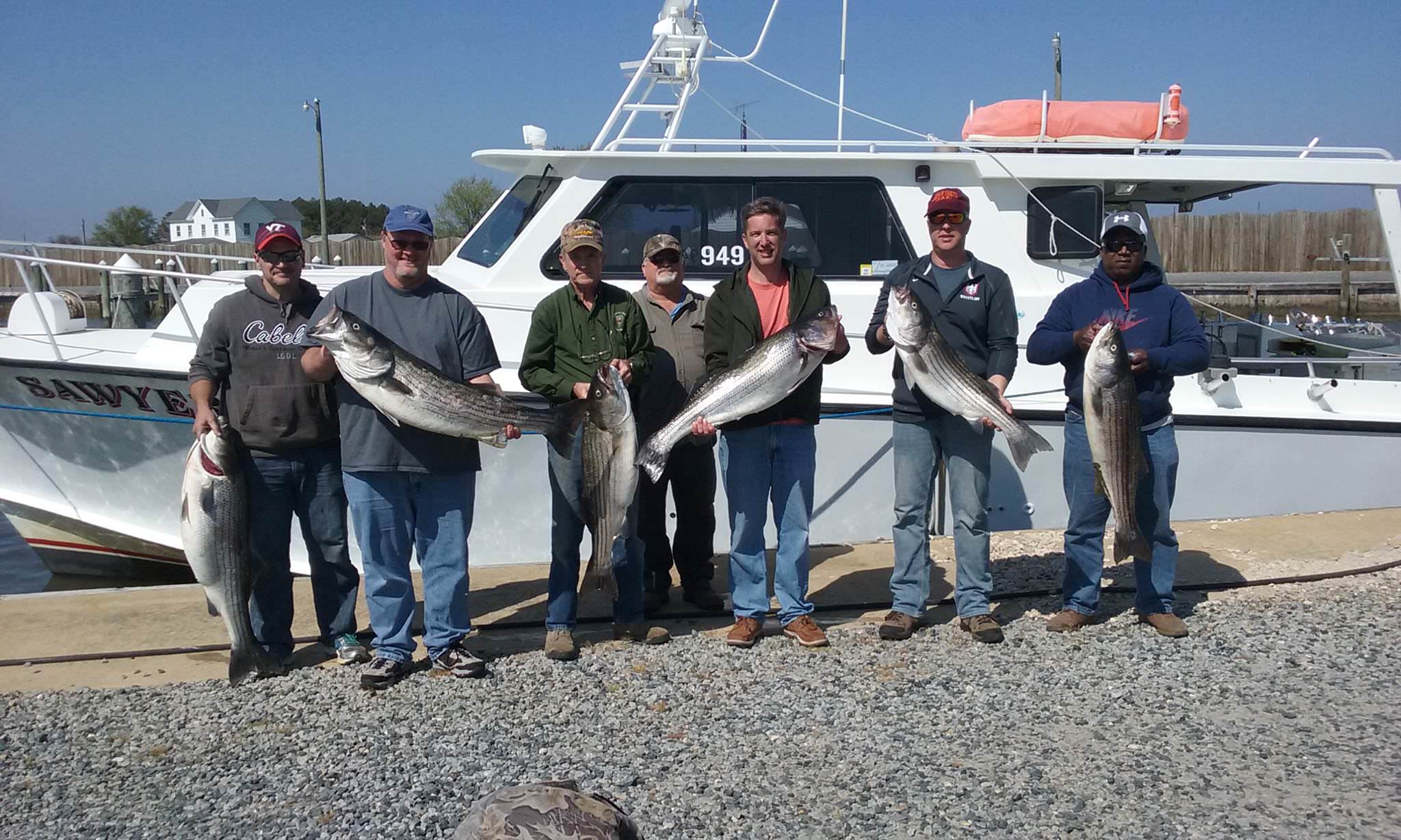 Here is a group of longtime customers who fish with us on the same day every year, in search of Chesapeake Bay trophy rockfish. They always seem to do well when they go, and today was no exception! Of the six big striped bass caught today, five of them were over 40 inches long!The fishing wasn't fast and furious, as we had to put in our time to get 'em, but it was still a very good day on the Chesapeake Bay!

Chesapeake Bay Fishing Report: April 19, 2017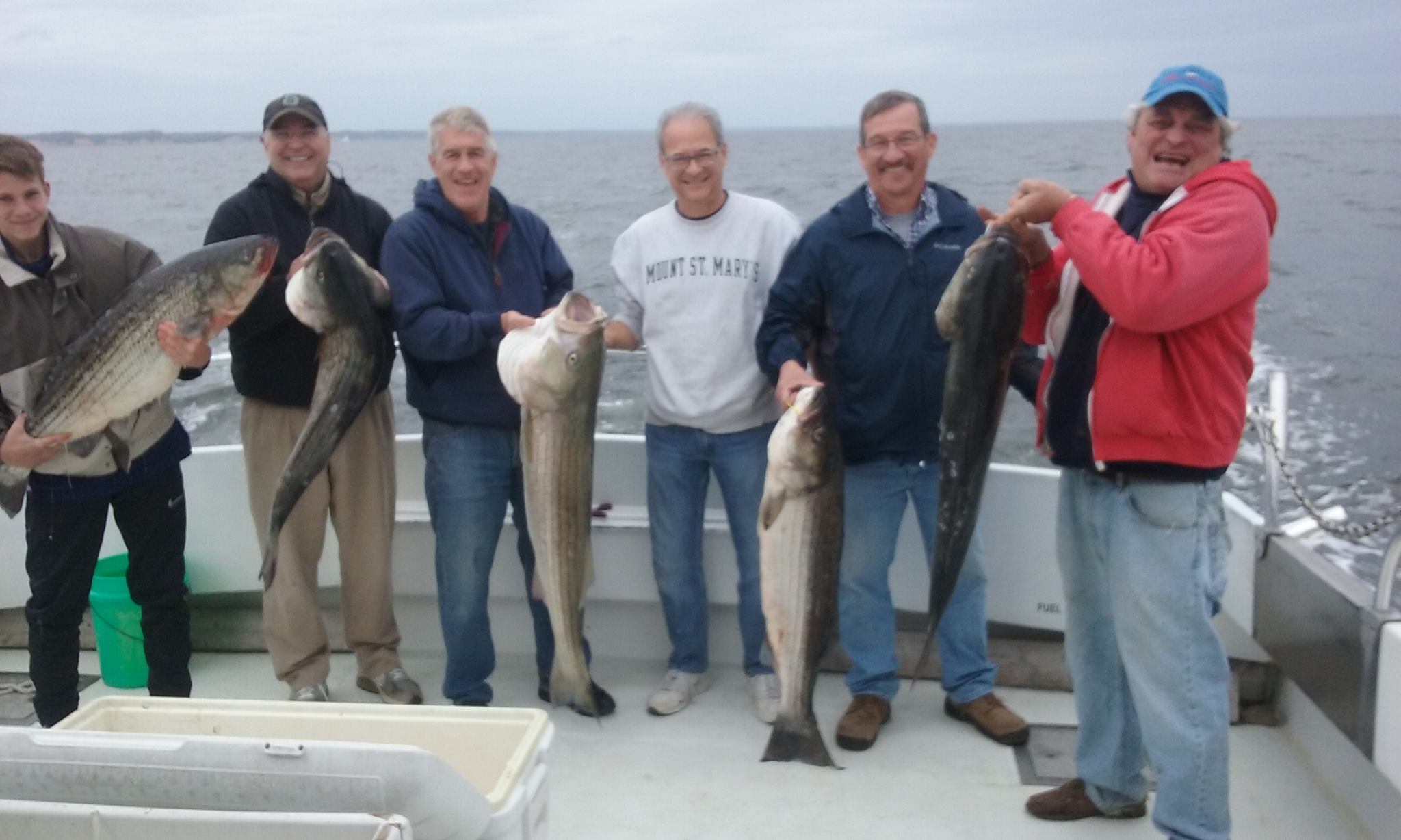 Check out the whoppers that we caught today! These are some massive striped bass! The fishing wasn't fast and furious, but the ones that we caught today were monsters! The biggest one on the day was 47 inches long, while even the smallest still clocked in at 41 inches in length. Hopefully, this is a sign of things to come.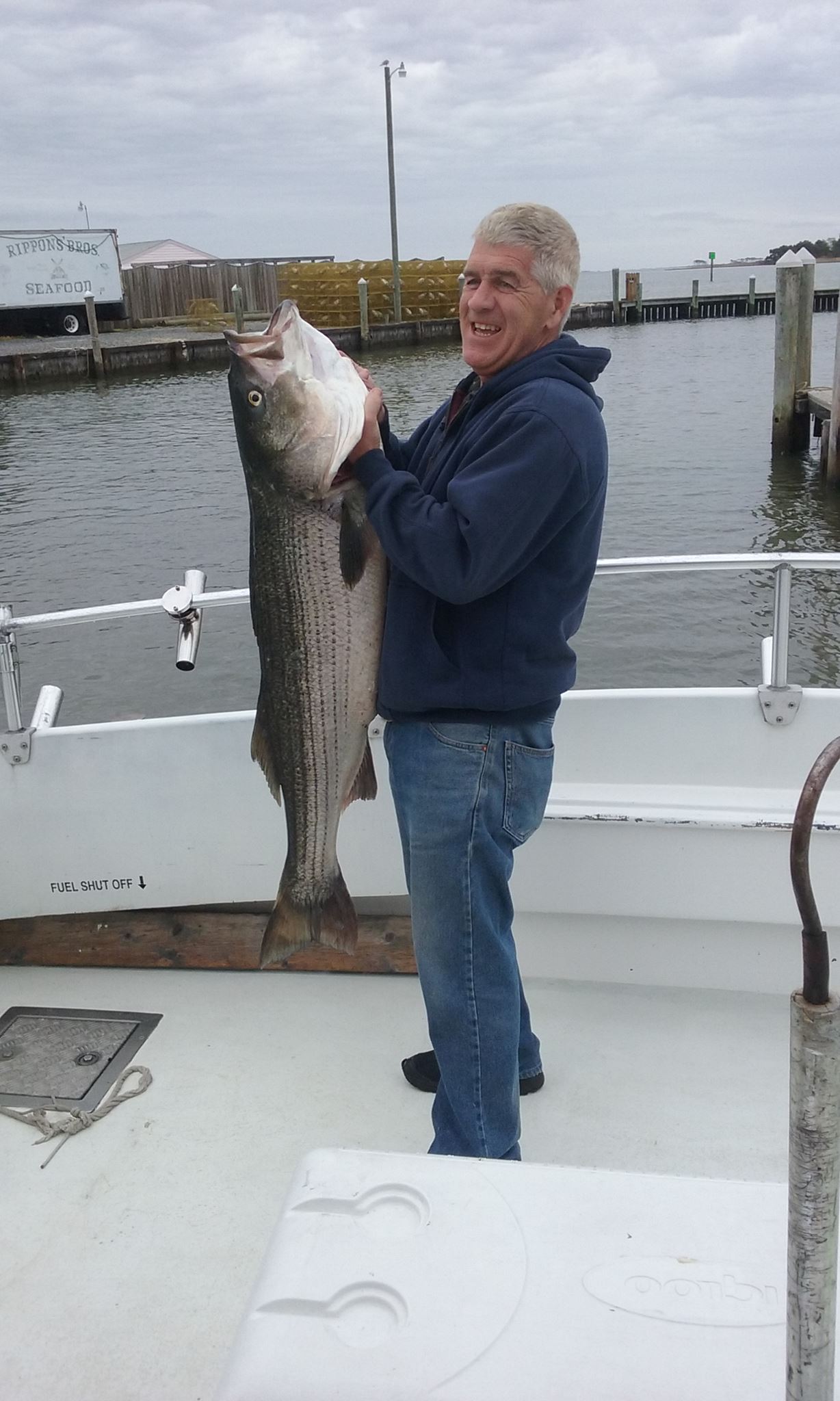 Chesapeake Bay Fishing Report: April 18, 2017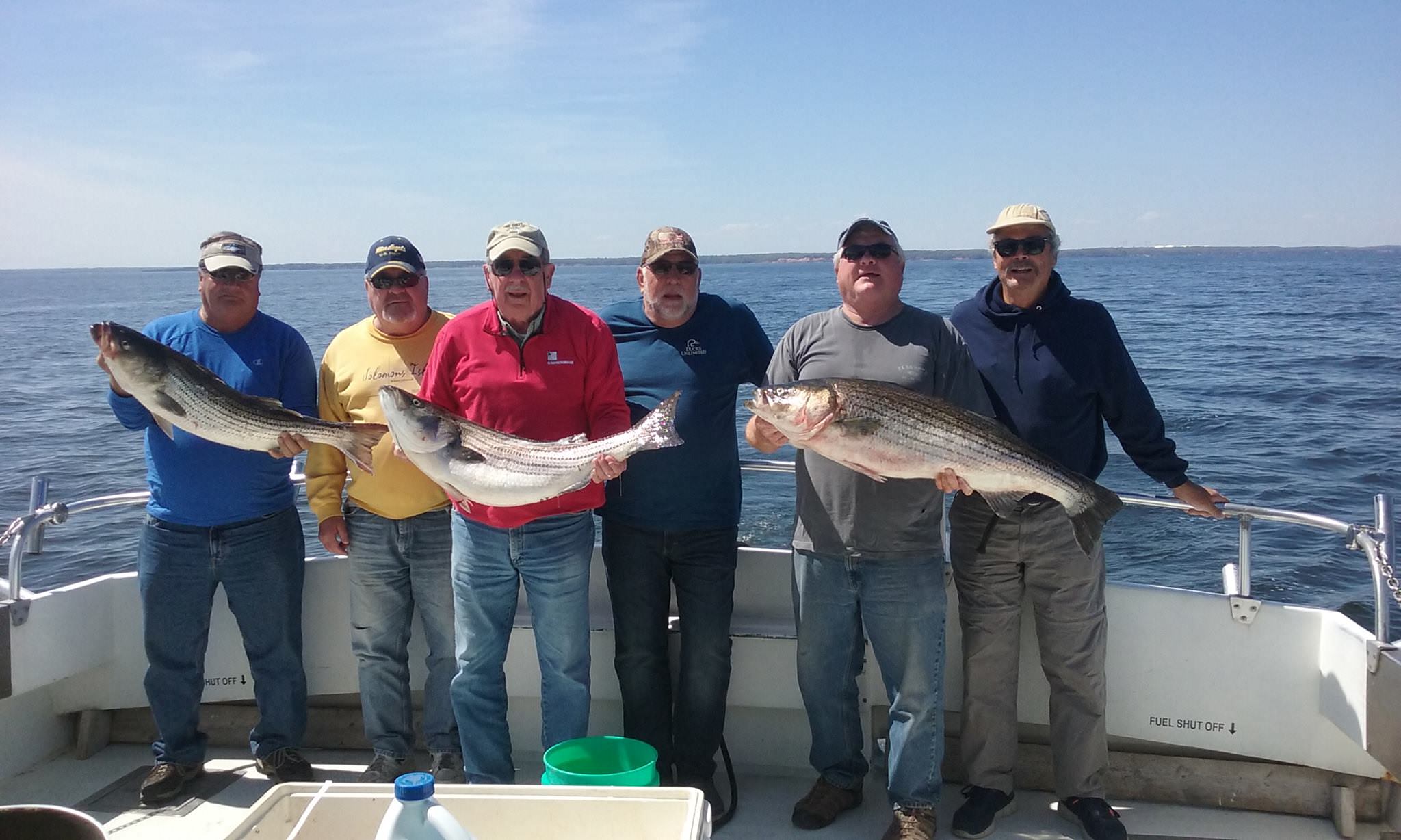 It was a bit of a tough campaign today, fishing for rockfish on the Chesapeake Bay, but we still managed to land four nice trophy striped bass! One of them had to be tossed back into the bay because it was a couple of inches too small. Two of the three fish in this picture are 40"+!
Chesapeake Bay Fishing Report: April 17, 2017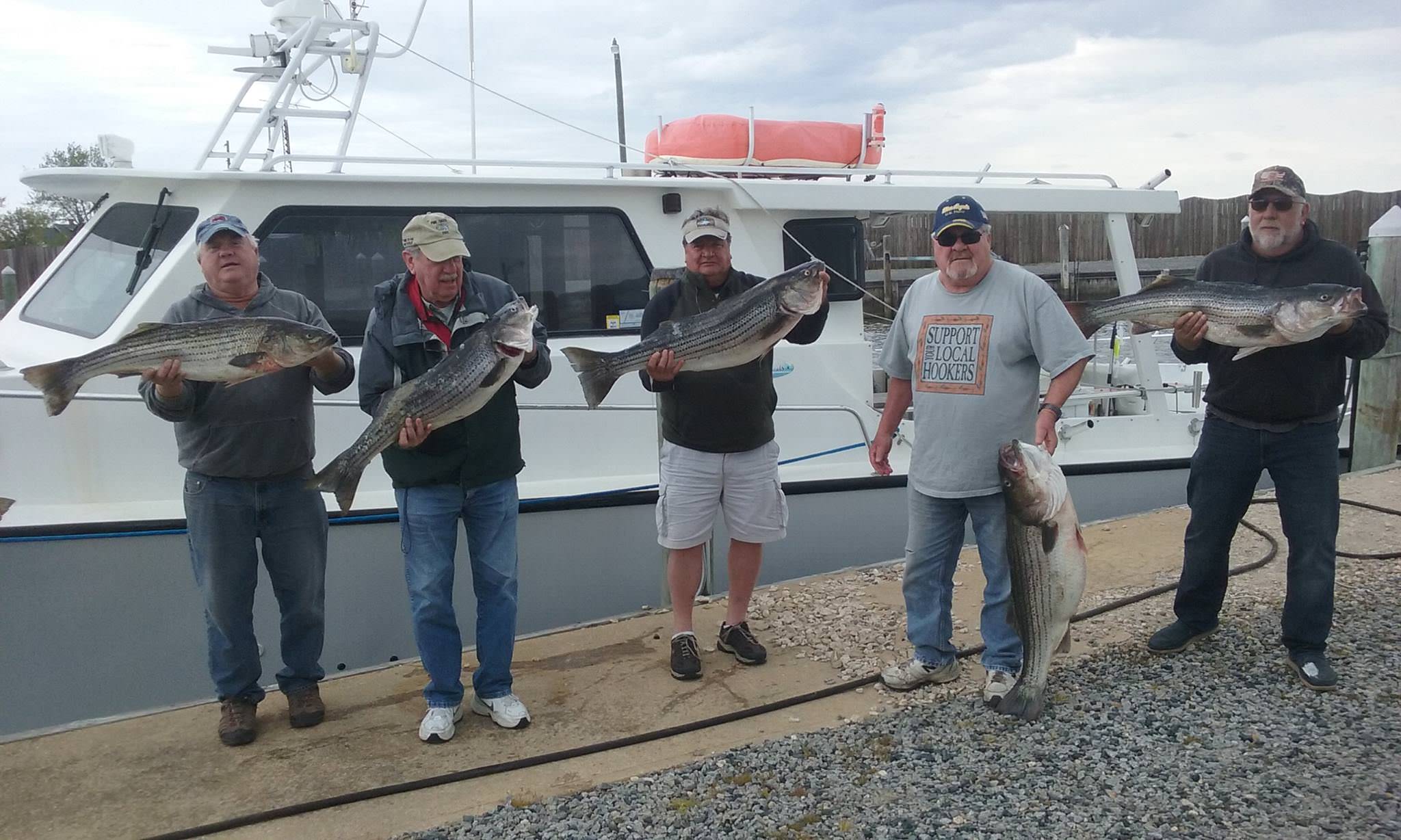 After a tough opening weekend, we headed out again to the Chesapeake Bay, trolling for trophy rockfish. It turned out to be a really great day on the Chesapeake Bay! We landed a couple of BIG rockfish when we were putting our lines out, and then gradually caught one here and there until we limited out by lunchtime! Four of the fish caught today were 40"+. We landed a total of six keepers. Our picture cut off one of the guys on the left hand side. Actually, if you look closer, you can see the tail of the fish that he's holding :).
Chesapeake Bay Fishing Report: November 25, 2016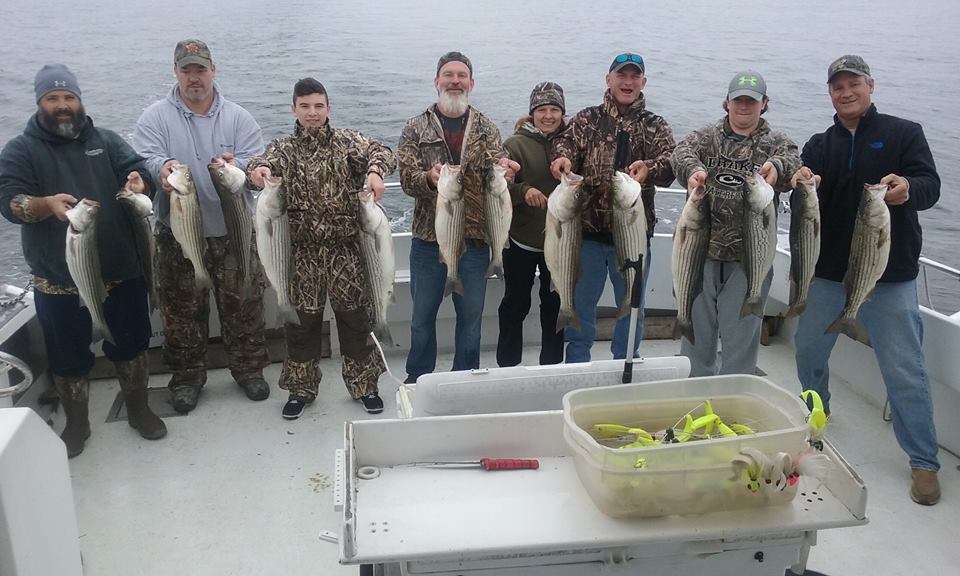 Here is the result of the first time that this crew went fishing on the Chesapeake Bay with us! While so many people were out shopping and running the risk of getting trampled at the stores on this Black Friday, this crew was catching their limit of Chesapeake Bay rockfish!

The fishing started out slow, but when we saw the birds working and diving on the bay surface, we knew the fish were there. We had numerous times when several lines hooked up at once, leading to an action-packed morning of fishing. Several of these Maryland-caught striped bass were over 30 inches in length.

This crew was so happy that they've already booked Black Friday for next year!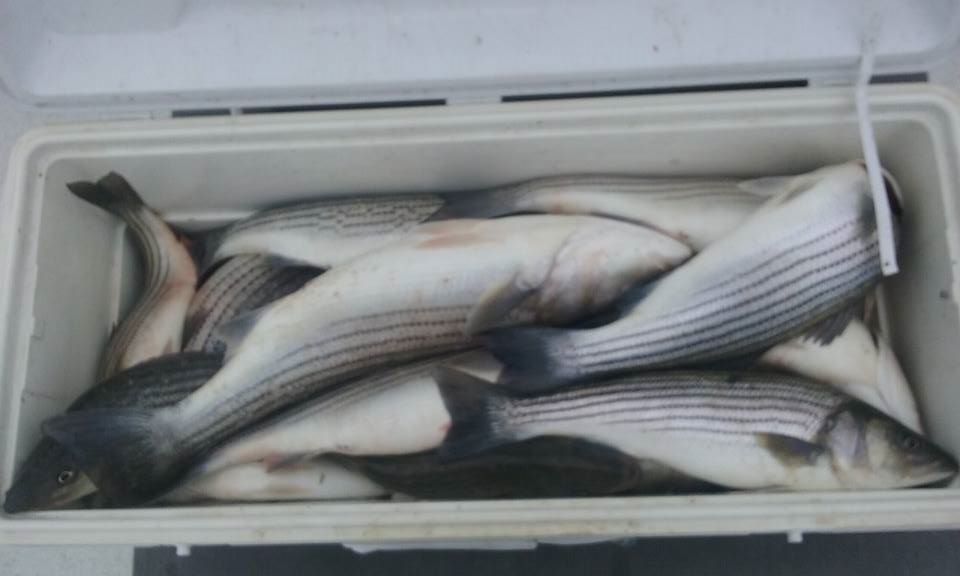 Chesapeake Bay Fishing Report: November 3, 2016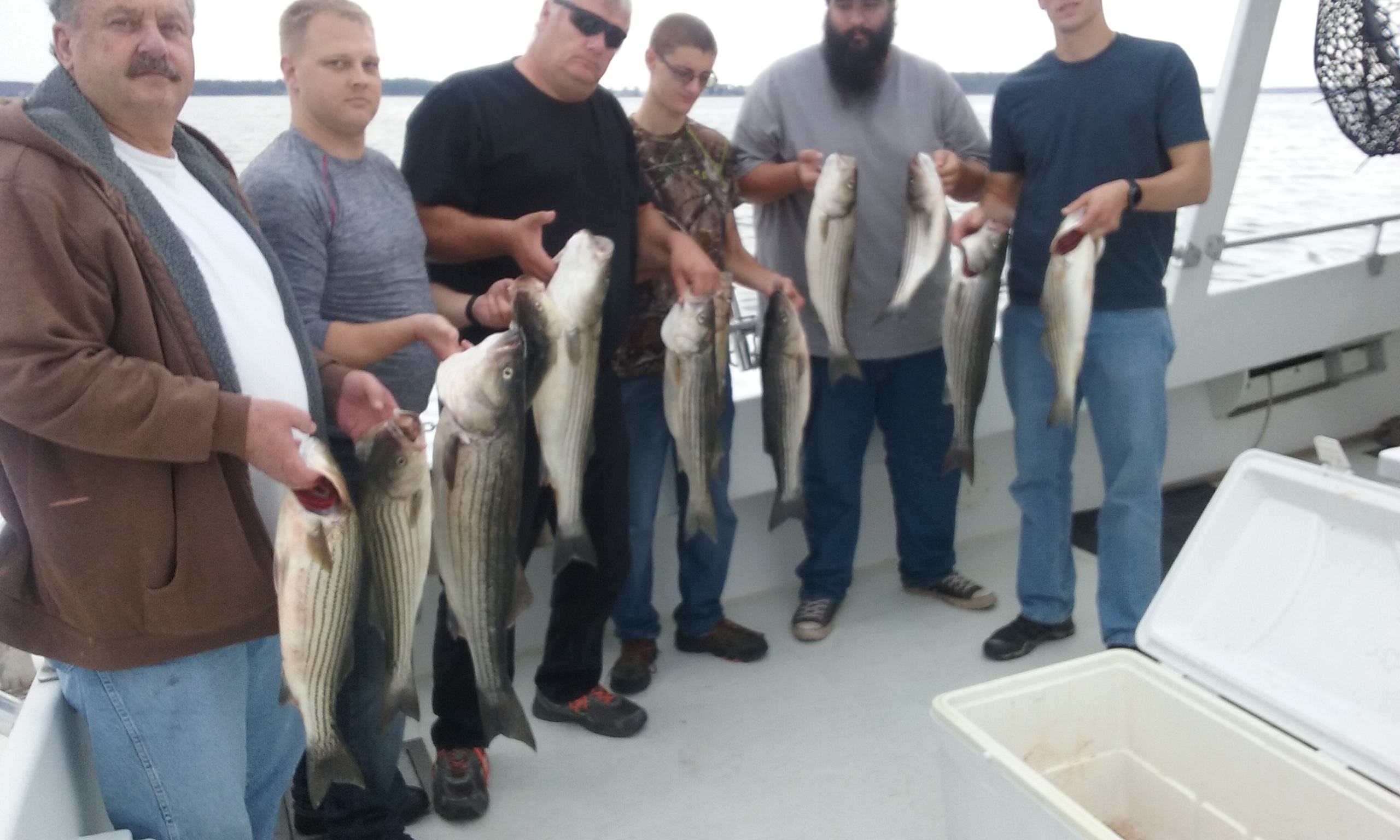 Here, we have the result of another fantastic day of fishing for Chesapeake Bay striped bass! At first, it didn't seem like it was going to turn out that way. We caught two BIG 30-inch fish as soon as we got to the fishing grounds. Then, the bite died off. The sonar showed that the fish were still there, even though they weren't biting. Fortunately, later in the day, the fish got hungry and bit like crazy! We had several lines hook up at the same time, and it didn't take long for this happy group of six to limit out of rockfish! A few of the fish that we caught today were of the same class of BIG fish that we catch in the spring, in terms of size. We have plenty of open dates for the rest of the season, from now through December. To book your own date, give us a call at (410) 397-3743!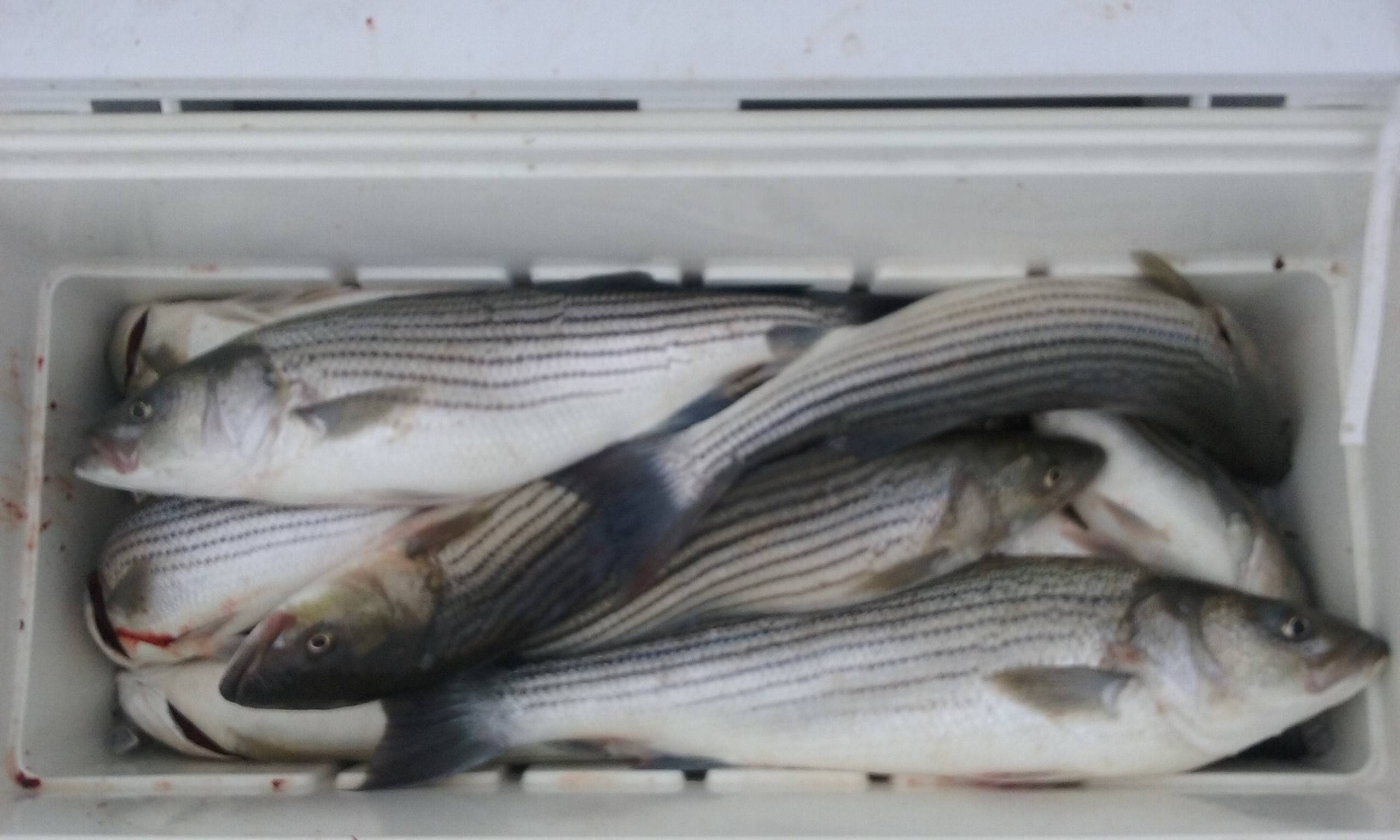 Chesapeake Bay Fishing Report: October 15, 2016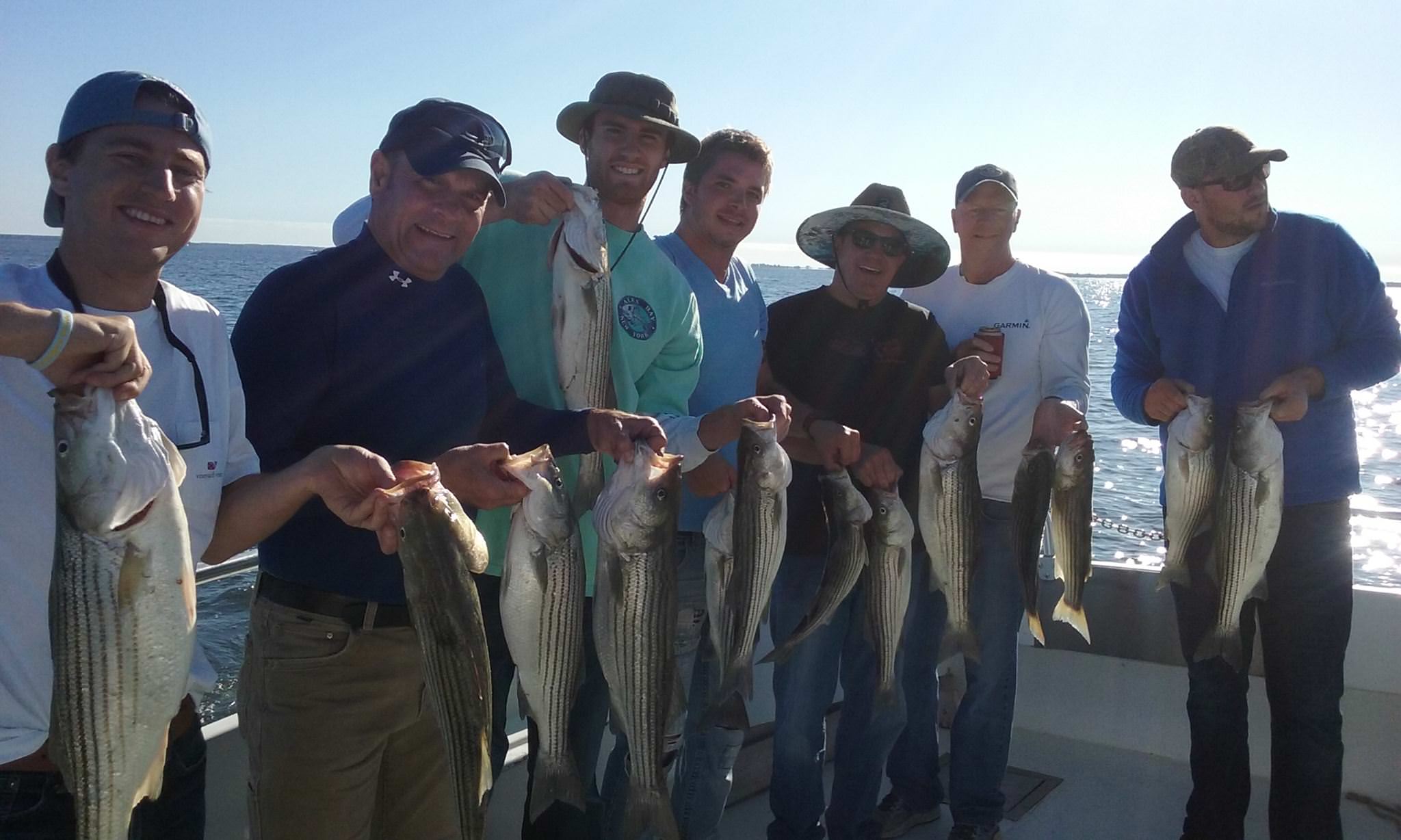 It was a typical Saturday morning on the Chesapeake Bay. There were a lot of boats out, but fortunately, there were a LOT of fish out there as well! We left the dock before the sun came up. It was a little bit of a ride to get to the fish, but once we arrived at the fishing grounds and got our lines out, it didn't take long at all for this crew to start catching fish! And once we started catching, we couldn't keep the rockfish off the lines! There were numerous times throughout the trip when we had 3-4 trolling lines hook-up at once. The fish were even jumping out of the water at times! Most of the striped bass that we caught today ranged between 20 and 25 inches in length, but we did catch a couple that were close to 30 inches long! This was one of the best Chesapeake Bay fishing charters that we've had this year in terms of how great the fishing was. Below is a cooler shot that puts an exclamation point on the day!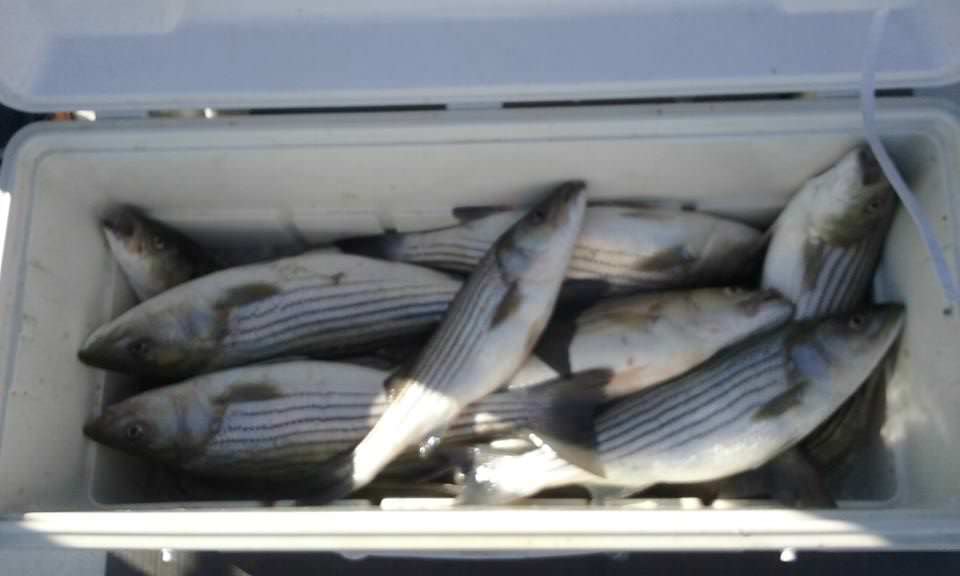 If last season is any indication, then the fishing on the Chesapeake Bay should only get better between now and when the season ends in December. We have plenty of open dates between now and then, so if you're looking to do some fishing with us this year, give us a call at (410) 397-3743!
Chesapeake Bay Fishing Report: July 11, 2016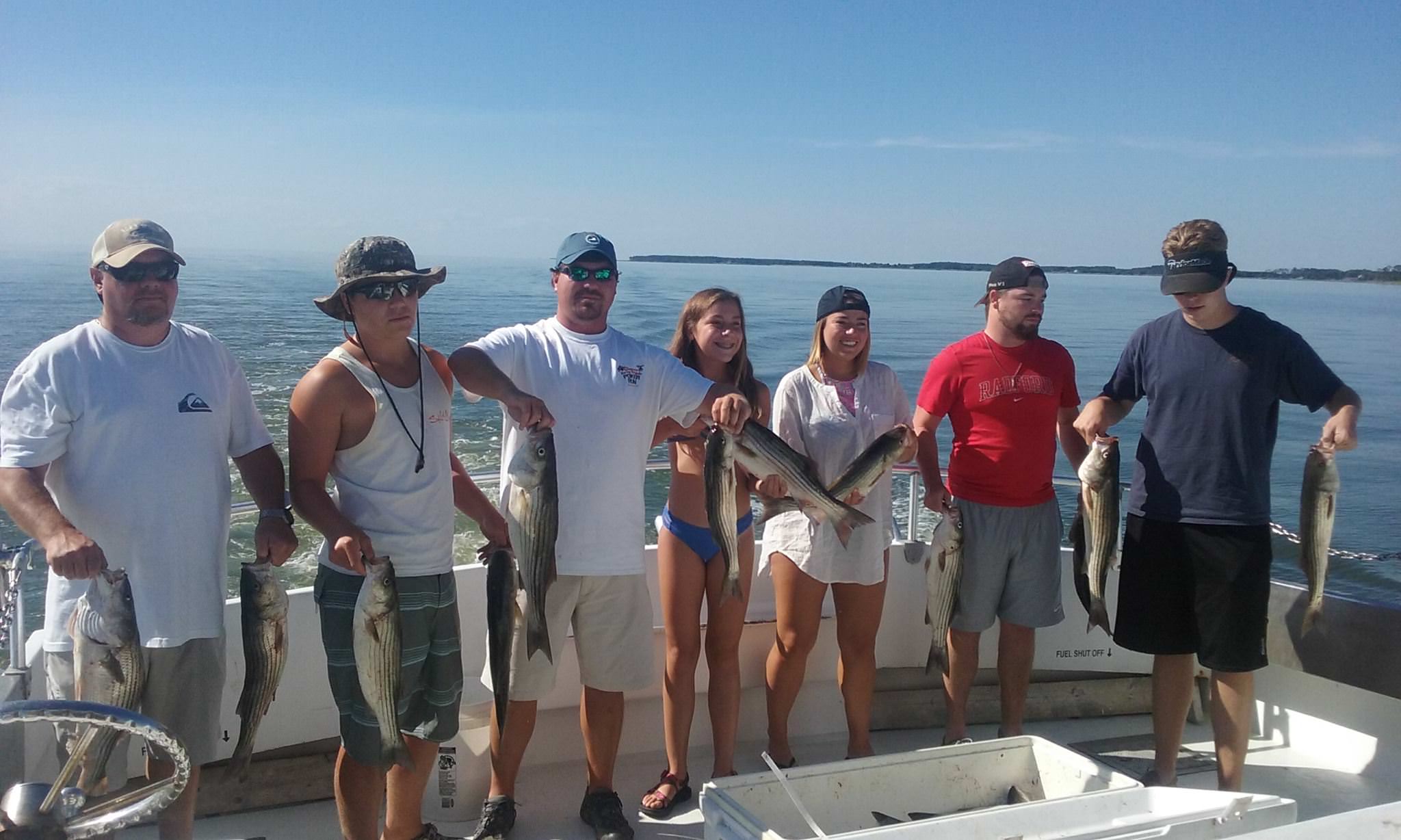 This was the first Chesapeake Bay fishing charter that we have taken with these guys. As you can see, it was pretty successful! We had 13 people in all in our group for today. Not all of them wanted to be in the above picture, posing with their fish, but they caught their limit of Chesapeake Bay Maryland rockfish in pretty short order! We're still using light tackle to fish for these striped bass on the bay. As soon as we pulled in and dropped anchor, we started getting hook-ups almost instantly! It didn't take long for 26 legal rockfish to be caught. A bunch of smaller fish were caught in the process, providing plenty of action for this gang! Check out the cooler shot in the picture below! We have a bunch of available dates for anyone who has a group and wants to try this type of fishing, especially if you can go during the week!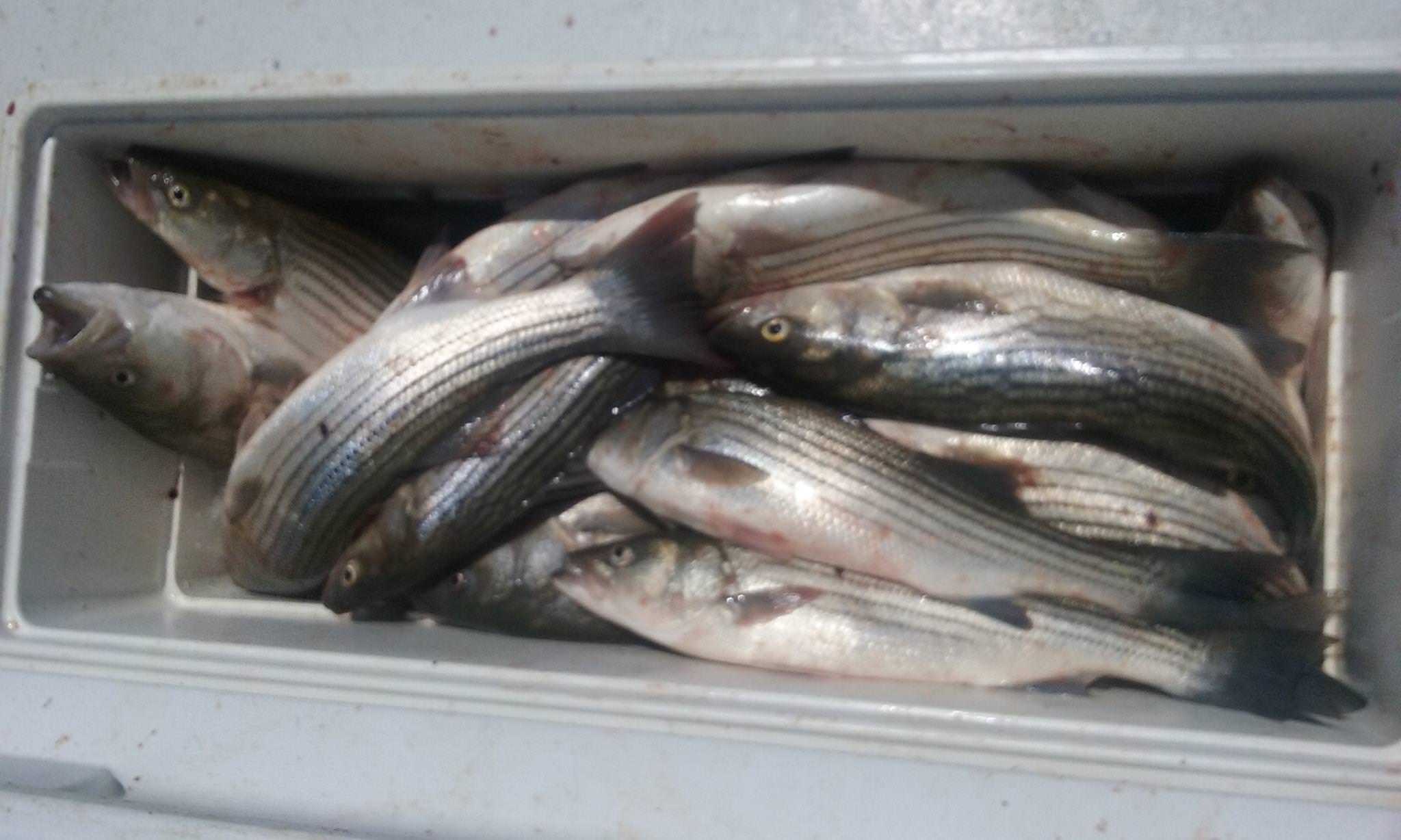 Chesapeake Bay Fishing Report: June 24, 2016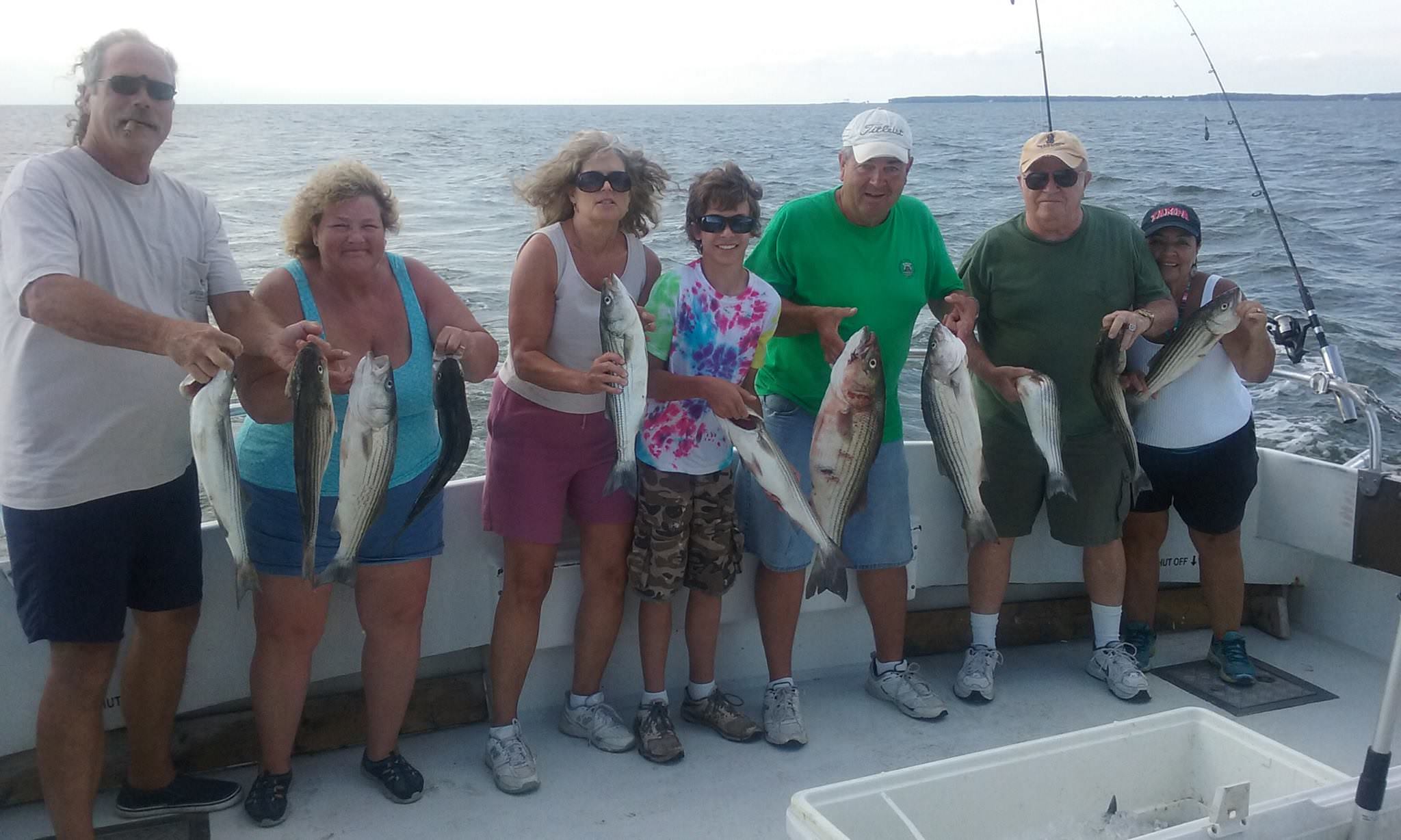 It was another fantastic day of Chesapeake Bay fishing action aboard the Sawyer! We caught these rockfish today with light tackle and fresh bunker for bait! Even though the current on the Chesapeake Bay was running really hard, the fish were biting as soon as we arrived! Not only did this crew limit out on Maryland striped bass, but they also caught a bunch of smaller ones that had to be thrown back. It was an action-packed afternoon! The biggest fish that was caught today clocked in at 30 inches!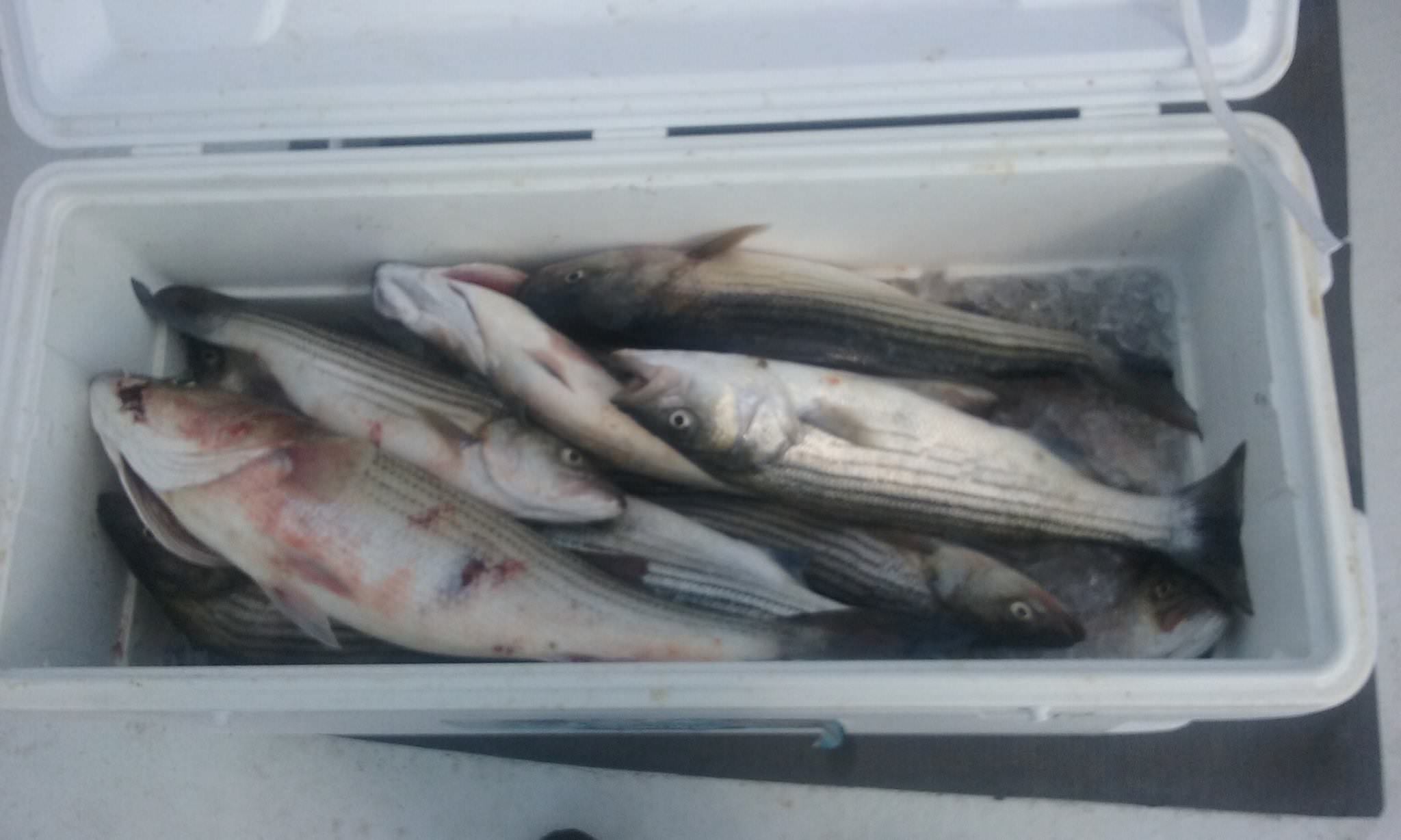 Contact: Capt. Dave Schauber at 410-397-3743 or email: sawyercharters@yahoo.com
___________________________________________________
Fishing Information from Capt. Dave



Enjoy the finest in Chesapeake Bay Sportfishing with Capt. Dave

Trolling for Trophy Striped Bass

Bottom Fishing with light tackle

Chumming for Striped Bass & Blues

Live-lining spot for Stripers

Trolling for Spanish Mackerel and Blues

Capt. Dave Schauber is a native to Maryland's Eastern Shore. He has fished on the Chesapeake Bay his entire life. From the late 1970s to the late 1990s, he operated sawmills for a living. After relocating to Dorchester County in 1981 to operate another sawmill, he quickly became known in the community as simply "The Sawyer", and is still referred to by that title to this day. It is often confused with his last name. This is the origin of the business name, and hence the boat name. After moving to Dorchester County, he fished the lower and middle Chesapeake Bay, in addition to the Honga River, Fishing Bay, and other local bodies of water for years. He started out with small, center-console boats and worked his way up to eventually owning a 42-foot Bay-built vessel. He obtained his Captain's License in 1992, and began to run fishing charters on the weekends and his days off. After building his business for several years, he made the decision to leave the sawmill and begin running charters full time in 1999. His business continued to grow, leading to the construction of our new boat in 2002.
We offer full and half-day Maryland fishing charters on the Chesapeake Bay, fishing for Chesapeake Bay rockfish (stripers or Maryland striped bass), bluefish, croakers, Spanish mackerel, and other species. We also offer Chesapeake Bay lighthouse cruises, nature cruises and other Chesapeake Bay tours, floating crab feasts, and cruises to various destinations along the Chesapeake Bay. We are located on Hoopers Island, about 40 minutes south of Cambridge, Maryland. Regardless of the size of your group, or the uniqueness of your occasion, there is nothing that we can't handle! Come join us for a memorable Chesapeake Bay charter fishing experience!
Sawyer Fishing Charters and Tours
Hoopers Island, MD
Capt. Dave Schauber
1345 Hoopers Island Rd.
Church Creek, Maryland 21622
Marina Address:
1747 Hoopersville Road
Fishing Creek, MD 21634
Email: sawyercharters@yahoo.com
Updated: 04/24/2017