Sawyer Fishing Charters & Chesapeake Bay Tours
Chesapeake Bay Fishing Reports & Maryland Fishing Information
Chesapeake Bay Fishing Reports From Capt. Dave Schauber!

Access the latest Chesapeake Bay fishing report on Maryland's Chesapeake Bay and find out what we're up to, right here at SawyerCharters.com!

Just 40 minutes south of Cambridge, MD!

Fishing the Chesapeake Bay in the areas of Hoopers Island, Taylors Island, Poplar Island, and Kent Island! We go where the fish are!

Contact us at
(410) 397-3743

sawyercharters@yahoo.com

Easy access from the Ocean Gateway (Rt 50) from Annapolis, Baltimore, Ocean City,

Pennsylvania, Virginia or Delaware
---
Chesapeake Bay Fishing Report
2014 MARYLAND FISHING REPORT
Chesapeake Bay Fishing Report: April 23, 2014
Too much wind today! Had to turn around after fishing for about an hour or so. Hopefully, things will get better soon.
Chesapeake Bay Fishing Report: April 22, 2014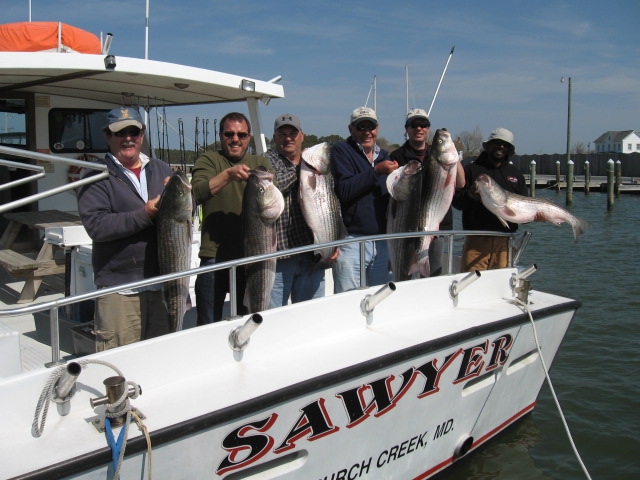 It was another fantastic day of Chesapeake Bay fishing this morning, as this group of six limited out on trophy Chesapeake Bay rockfish in fairly short order. There was a lot of boat traffic out and about today, but that wasn't enough to stop us from getting it done! Once again, these fish were some thumpers, and something these guys won't forget anytime soon!
Chesapeake Bay Fishing Report: April 21, 2014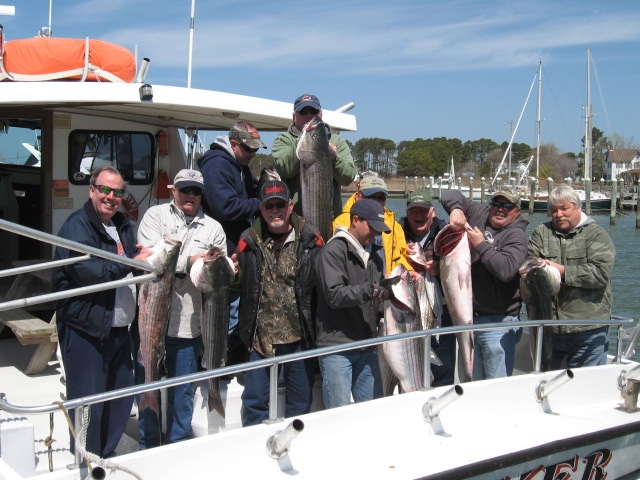 Here we have the result of another outstanding day of Chesapeake Bay fishing on the Eastern Shore. The weather was great today, punctuated by sunny skies and light winds out of the north. As soon as we started putting out lines, we started catching. Within a few short hours, this gang of ten had its legal limit of stripers.
Chesapeake Bay Fishing Report: April 20, 2014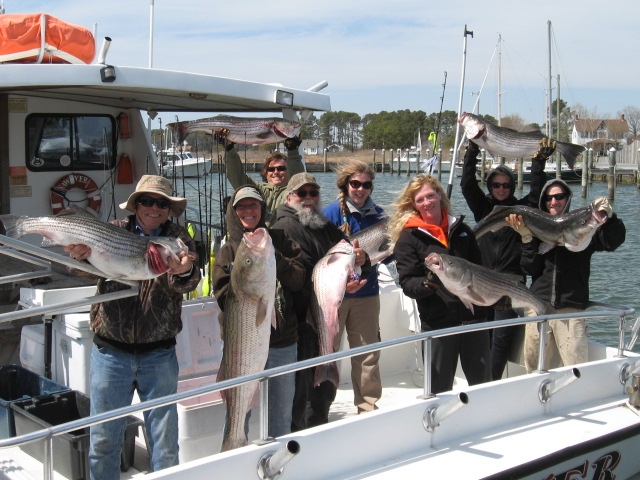 Today was just as good as yesterday on the Chesapeake Bay, as we limited out on Chesapeake Bay trophy striped bass! The size on these fish was once again exceptional, with the biggest one clocking in at 48 inches. The second fish from the left is just as long as she is tall! This is wild! Hopefully, these guys stick around for a while!
Chesapeake Bay Fishing Report: April 19, 2014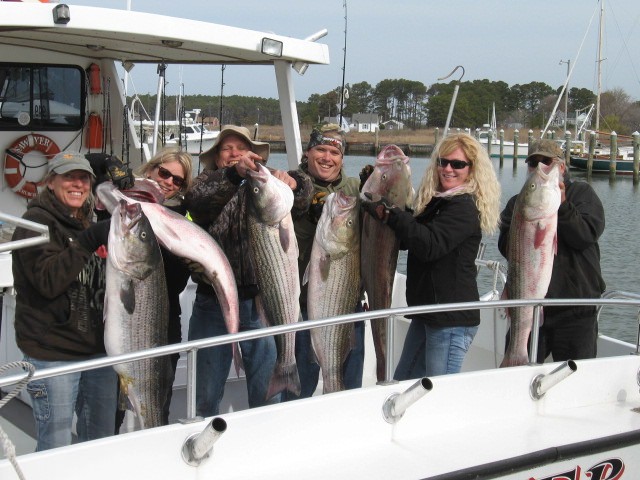 Sawyer Charters starts the 2014 Chesapeake Bay trophy rockfish season off with a bang! Just look at these fish! Every single one of them was over 40 inches long! By the time these guys got done catching these fish, they were too tired to do anything else! It was a fantastic day of Chesapeake Bay charter fishing, and is hopefully a sign of things to come!
Chesapeake Bay Fishing Report: April 5, 2014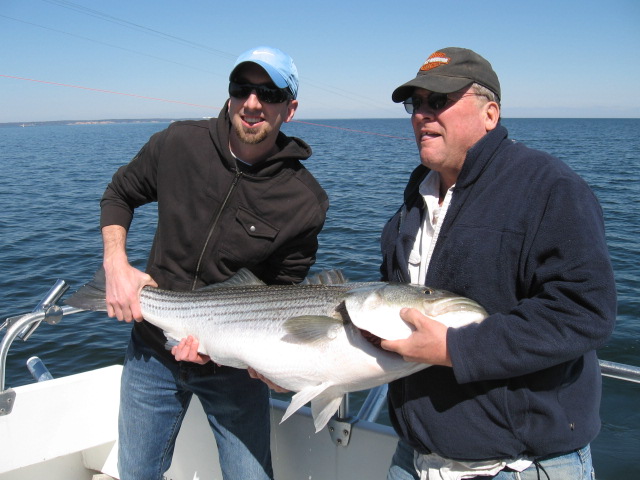 We're back for another year! Usually, once a year, we like to go out before the season officially starts for two reasons. The first is to make sure all of our equipment still works, while the second is to see if there are any fish around. Here's what we found today on the Chesapeake Bay! This trophy Chesapeake Bay rockfish was of tournament caliber, and had to have been over 40 pounds. It took three guys to pull it up over the back of the boat after we netted it. Hopefully, we'll be seeing more of these once the season starts. And yes, we put the fish back over.
Chesapeake Bay Fishing Report: November 29, 2013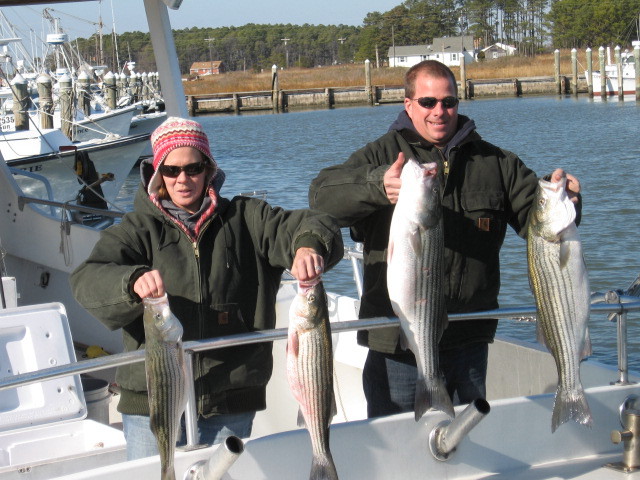 Today, we went trolling on the Chesapeake Bay for rockfish, and came back with another nice catch! We had a group of four today, and they caught their limit of striped bass from Maryland's Eastern Shore. The Chesapeake Bay striped bass that were caught today ranged between 21 and 32 inches long! Even the smaller rockfish that were landed this morning are fatter than what we were catching earlier this summer. Our book is wide open after this weekend, so if you want to try your hand at some of this fall fishing on one of our Chesapeake Bay fishing charters, give me a call!
Chesapeake Bay Fishing Report: November 18, 2013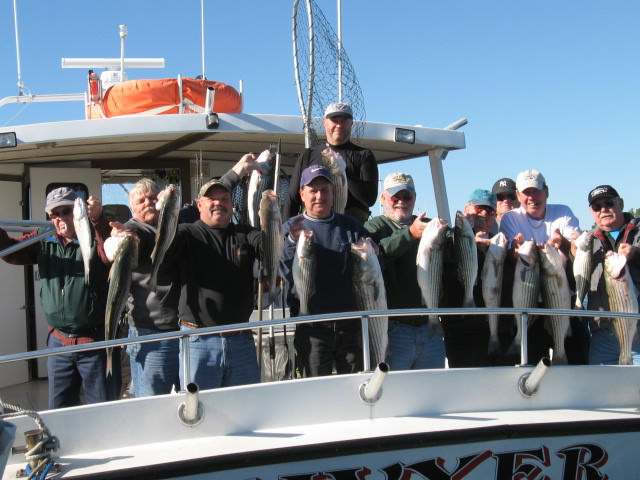 Check out what these guys did on their trip with us today on the Chesapeake Bay! These are 10 guys who landed their legal limit of Chesapeake Bay rockfish while trolling. Contrary to all of the weather reports, the weather was absolutely terrific, with calm seas and lots of sunshine. There were a lot of birds out that led us toward the breaking piles of striped bass. Once we found the fish, it didn't take long for us to load up! There were several times during this Chesapeake Bay fishing charter where we had 4-5 hookups at one time! These Chesapeake Bay striped bass ranged anywhere from 18 to 36 inches in length! That's a lot of fat fillets!
Chesapeake Bay Fishing Report: November 7, 2013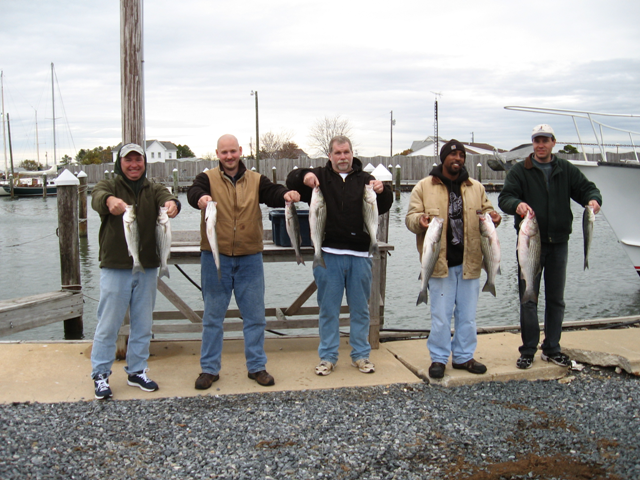 These guys joined us today on one of our Chesapeake Bay fishing charters for the first time in several years. As you can see, they were successful in landing a good catch. We're back to trolling now on the Chesapeake Bay, as the water has cooled off and the spot have left town. The big ones have yet to arrive, but we expect them to be here shortly. We have plenty of open dates for those who want to get in on the fall trophy striper run! Give me a call!
Chesapeake Bay Fishing Report: August 28, 2013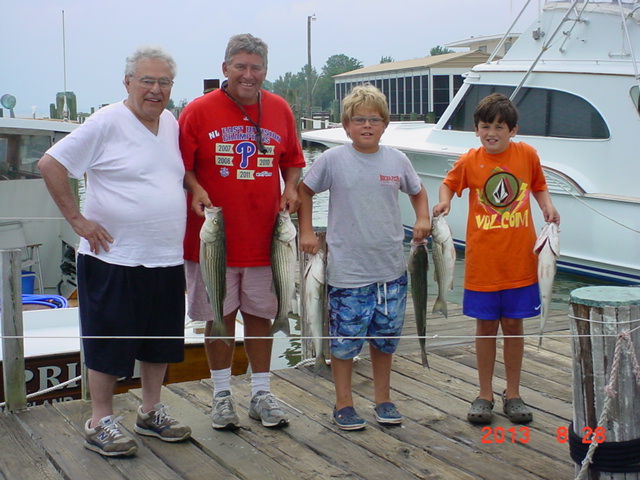 We have taken these guys fishing on the Chesapeake Bay for many years, but this is the first time that they brought the kids! It was another great day for everyone, in spite of intermittent rain that cleared up just long enough for these guys to limit out on Chesapeake Bay striped bass! Today brought us a very healthy grade of fish, as most of them were fat, and some were pushing 26 inches in length! You can't beat the excitement of catching one of these fish on a spinning reel! The kids pictured above will never forget this trip! Heck, they even caught most of the fish!
Chesapeake Bay Fishing Report: August 26, 2013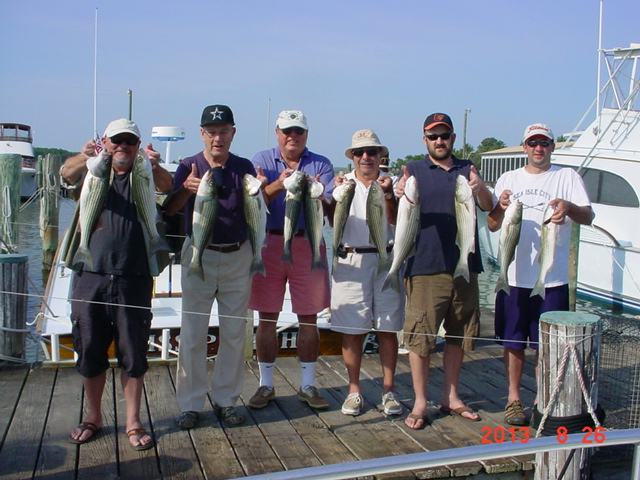 These guys went fishing with us for the very first time on the Chesapeake Bay, and had a heck of a time! It wasn't easy at first, as the bait fishing was kind of slow. Then, we discovered that the fish had moved away from where we had been catching them. However, after catching of couple of Chesapeake Bay striped bass here and there, we finally found the mother lode, causing these folks to limit out on Maryland rockfish very quickly. These fish were of a very healthy grade, and some of them gave these guys quite a fight!
Contact: Capt. Dave Schauber at 410-397-3743 or email: sawyercharters@yahoo.com
___________________________________________________
Fishing Information from Capt. Dave



Enjoy the finest in Chesapeake Bay Sportfishing with Capt. Dave

Trolling for Trophy Striped Bass

Bottom Fishing with light tackle

Chumming for Striped Bass & Blues

Live-lining spot for Stripers

Trolling for Spanish Mackerel and Blues

Capt. Dave Schauber is a native to Maryland's Eastern Shore. He has fished on the Chesapeake Bay his entire life. From the late 1970s to the late 1990s, he operated sawmills for a living. After relocating to Dorchester County in 1981 to operate another sawmill, he quickly became known in the community as simply "The Sawyer", and is still referred to by that title to this day. It is often confused with his last name. This is the origin of the business name, and hence the boat name. After moving to Dorchester County, he fished the lower and middle Chesapeake Bay, in addition to the Honga River, Fishing Bay, and other local bodies of water for years. He started out with small, center-console boats and worked his way up to eventually owning a 42-foot Bay-built vessel. He obtained his Captain's License in 1992, and began to run fishing charters on the weekends and his days off. After building his business for several years, he made the decision to leave the sawmill and begin running charters full time in 1999. His business continued to grow, leading to the construction of our new boat in 2002.
We offer full and half-day Maryland fishing charters on the Chesapeake Bay, fishing for Chesapeake Bay rockfish (stripers or Maryland striped bass), bluefish, croakers, Spanish mackerel, and other species. We also offer Chesapeake Bay lighthouse cruises, nature cruises and other Chesapeake Bay tours, floating crab feasts, and cruises to various destinations along the Chesapeake Bay. We are located on Hoopers Island, about 40 minutes south of Cambridge, Maryland. Regardless of the size of your group, or the uniqueness of your occasion, there is nothing that we can't handle! Come join us for a memorable Chesapeake Bay charter fishing experience!
Sawyer Fishing Charters and Tours
Hoopers Island, MD
Capt. Dave Schauber
1345 Hoopers Island Rd.
Church Creek, Maryland 21622
Marina Address:
1747 Hoopersville Road
Fishing Creek, MD 21634
Email: sawyercharters@yahoo.com
Updated: 04/23/2014